RFID (radio frequency identification) technology has the ability to transform the way businesses operate across a variety of industries. So what is RFID technology and how can it benefit your karting or family entertainment center (FEC)?
What is RFID?
RFID technology is a form of wireless communication designed to identify and track tags attached to objects. The tags consist of tiny transponders that communicate with RFID readers. RFID goes above and beyond barcode technology by allowing data to be captured from a long-range and in real-time.
Benefits of RFID for FECs?
RFID technology offers more flexibility and endless possibilities for FECs to track, engage and analyze customer's activity. Wearable RFID trackers such as wristbands can be combined with membership cards, cashless card systems, video camera systems, point of sale, activity tracking and point systems. Depending on the solution you deploy, the possibilities can be limitless. FECs leveraging RFID technology are able to streamline operational efficiencies and gain access to further analyze activity trends. Best of all, the guest experience is seamless, providing shorter wait times, easy check-in and check-out, and ease of use increasing the average spend per customer.
About Clubspeed's RFID System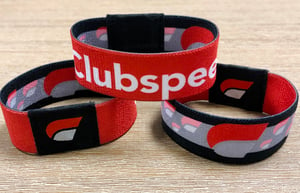 The RFID Action Camera System available from Clubspeed uses wearable wristbands to track your customer's races and activities, create highlight videos, and deliver them immediately via race results, email, mobile app and an on-site kiosk. Guests can easily share these videos via social media, giving your marketing efforts an immediate boost!
The action camera system is fully integrated with Clubspeed's software solution so that you can easily associate customer profiles to RFID bands allowing additional tracking, marketing opportunities and flexibility. The action camera system enables such a wide range of upsell opportunities, allowing FECs to attract new business and increase average spend per guest. Contact us today to learn more about Clubspeed's RFID Action Camera System and how it will set you apart from your competitors.