Clubspeed was proud to return this year as a sponsor and exhibitor at the IAAPA Expo held in Orlando, Florida last month. With 42,600 attendees and 1,146 exhibitors setup across the expo floor and the surrounding grounds, there was action at every turn. Business owners, decision makers, and industry leaders of the attractions industry traveled across the globe to attend this years's show, making it the largest in attendance in IAAPA Expo history. This video by the IAAPA team captures just some of the excitement experienced over the 5-day event.
According to the latest "IAAPA Global Theme and Amusement Park Outlook Report (2019-2023)," theme and amusement parks worldwide are expected to entertain more than 1.16 billion people in 2019 and generate $52 billion in revenue. It's no wonder this event attracts such a large audience of attraction industry professionals.
Clubspeed was excited to exhibit in the Exploration Station where we met customers, hosted training sessions and demoed Clubspeed - the world's leading software for Family Entertainment Centers. "Exhibiting at this event gives us the unique opportunity to spend quality time with our customers and partners. The time is priceless to discuss their business needs and how we can support them," said Tom McInerney, Clubspeed's Vice President of Sales. "We've experienced so many positive changes over the past 9 months and our time at IAAPA enabled us to share all of the new features we've rolled out to meet the software requirements specific to Family Entertainment Centers around the world," added McInerney.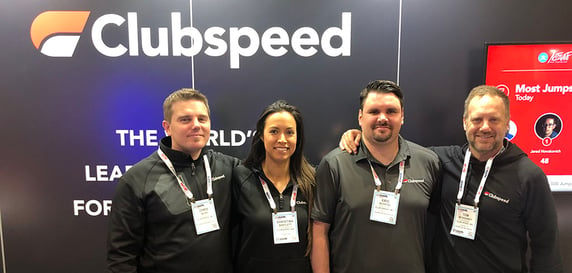 We would like to thank everyone who visited our booth and to IAAPA for hosting such a great event. We're already looking forward to next year!
Couldn't make it to the booth and still looking for the software provider that will help get your business up to speed? Download our info sheet below.