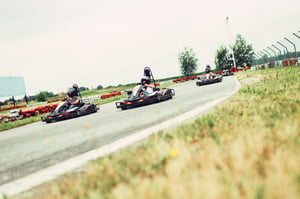 Think about your average customer. When they come to your karting track, they expect a day of having fun and racing with friends or family. They may visit your facility for a day every so often, with long stretches of time before they return.
What can you do to develop those customers into loyal guests? You need to keep their experience novel and exciting for hours on end to keep them coming back. We've already mentioned how adding other activities and attractions to your facility can improve business, but there is another simple way to get people returning time and time again. By creating leagues and tournaments at your location, you can further engage and retain customers.
Why Leagues and Tournaments?
Setting up racing leagues at your track allows guests to gather a group of friends or family members at your track on a regular basis, competing against each other or teaming up against other groups. Tournaments take these leagues to another level. Incorporate individual or team tournaments, inspiring guests to return to beat other racers and win big. You can set up the tournaments however you want, with racers squaring off in one-on-one contests or larger group races. Creating events surrounding tournaments and offering appealing prizes will incentivize more people to join.
Implementing leagues and/or tournaments into your business will peak the interest of your most competitively-driven customers and set you apart from other tracks. Those who want to race on a more serious level will appreciate the opportunity to further compete and race against other teams. Setting up "league nights" is also a great way to increase foot traffic on regularly slow business days. Participants can see where they stand versus other racers in the tournament using technology like Clubspeed's ProSkill skill driver ranking system, or via a branded mobile app to view scores even when they aren't at your track. Letting racers check in on their standings keeps your facility top of mind and improves customer retention.
Find the Right Software to Manage Your Business
While some other track software limits the ability to set up leagues and tournaments, Clubspeed software makes it easy with tools to automate scheduling and scoring for multiple races simultaneously. Tournaments can be built out within the system, customized to whatever setup you choose. Long gone are the days of keeping track of teams and scores manually building brackets via spreadsheets. Find out how you can appeal to your visitors and boost your business by contacting Clubspeed today.