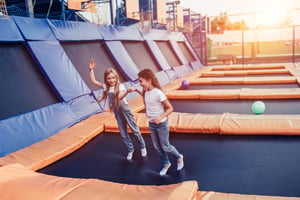 Trampoline jumping might seem like harmless entertainment, but it in fact presents various safety hazards, including falls and collisions. Such incidents can result in injury for jumpers and stressful dealings for you.
As long as everyone follows standard safety rules like the below, your trampoline park can remain a place for carefree fun.
FOR YOU
Have nets and/or mats surrounding the trampolines. These minimize danger by offering protection and lowering the likelihood of injury for jumpers in case of a fall.
Require all guests to sign a waiver. No one should be allowed to jump without filling out the waiver that will protect you and your business' liability for accidents and injury.
Prevent certain people from participating. Do not allow pregnant women, individuals under the influence and people with a serious injury or disability to jump.
FOR JUMPERS
No foreign objects on the trampolines. No participant should jump wearing shoes, with gum or food in their mouth, or with items in their pockets. No food or drink should be allowed on trampolines or any other equipment.
Stay in control. Everyone on the trampolines should keep to themselves and be aware of people around them at all times; no rough-housing or jumping into others. All should stay away from the edges and only jump within their abilities.
Follow rules and instructions. Communicate the safety guidelines above before allowing anyone on the trampolines, and ensure everyone follows them. If they don't, you must remove them from the trampolines.
Keep your focus on safety at your park and let Clubspeed do the rest. Our software makes managing your facility simple and efficient, with all operations controlled in one place. Learn more here.